Welcome to our website
Foulness Island is a small Parish in the east of the area covered by Rochford District Council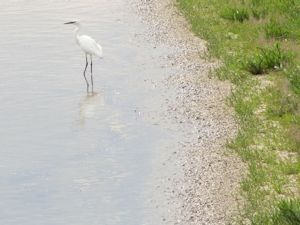 Foulness is an island on the east coast of Essex in England, which is separated from the mainland by narrow creeks. In the 2001 census, the usually resident population was 212, living in the settlements of Churchend and Courtsend, at the north end of the island. The population reduced to 151 at the 2011 Census. The George and Dragon pub in Churchend closed in 2007, while the church closed in May 2010.
Foulness Island is predominantly farmland and is protected from the sea by a sea wall. The island's unusual name is derived from the Old English for wild birds and promontory, and it is an internationally important site for migrating and breeding birds, including avocets. During the North Sea flood of 1953, almost the entire island was flooded, and two people died.
Prior to 1922, when the military road was built, the only access was across the Maplin Sands via the Broomway, a tidal path said to predate the Romans, or by boat. Although public rights of way exist, the island is run by QinetiQ on behalf of the Ministry of Defence, and access to the island is only permitted with a pass, obtainable from Shoeburyness. The island's visitor centre is opened to the public on the first Sunday in summer months, but permission must be sought to visit. Until 2007, members of the public could visit the island's pub by telephoning ahead; if they had not done so, access would be denied.
(Source: Wikipedia)
Foulness Parish Council
The Parish Council comprises 5 councillors and their meetings are usually held on the second Wednesday of every month at the Lodge Farm staff premises, normally commencing at 7pm. Parishioners are welcome to attend.